Product Profile
Economical, high-precision and robust. CutMaster owns sturdy construction. With Rugged floor-mounted rails which are machined from 24kg/m crane rail and heavy-duty end truck, You'll get high- precise cutting quality of long life cycle.
CutMaster can support two high performance plasma systems and up to 11 flame straight cutting systems, which can provide you different cutting requirements and improve your productivity to the largest extent.

Equipped with accurate transmission and guiding system, adopting STARCAM automatic nesting software and F2300B industrial level CNC system, CutMaster II is built to fulfill heavy tasks in your shop with multiple choices.
Are you looking for a machine that can outperform in cutting capability and is low in budget? Meet our robust CutMaster and get excellent cut part quality and benefit from cost-saving, worry-freeing and high-efficiency.
Product Video
Our machine reaches operating accuracy of 0.2mm and cutting speed up to 700mm/min.

With entry level price, you benefit from increased productivity with superior performance.
Main Features
1) Heavy-duty CNC gantry cutting machine with easy-to-use F2300B CNC control system.
2) High compliance digital drives provide a smooth cut edge with zero maintenance.
3) Large diameter drive wheels combined with high precision guiding systems offer you superior drive motion.
4) Rugged cross box beam with milled steel plate for high precision guiding system delivery lasting strength, durability and precision.
5) Fast flame cutting torch with height sensing lifer and auto-ignition device let you spend more time cutting and less time in setup.
6) Up to 800 amp plasma depending on your choice.
5) Apply to metal cutting in ship building, construction tower, mechanical engineering, steel service and other heavy industries.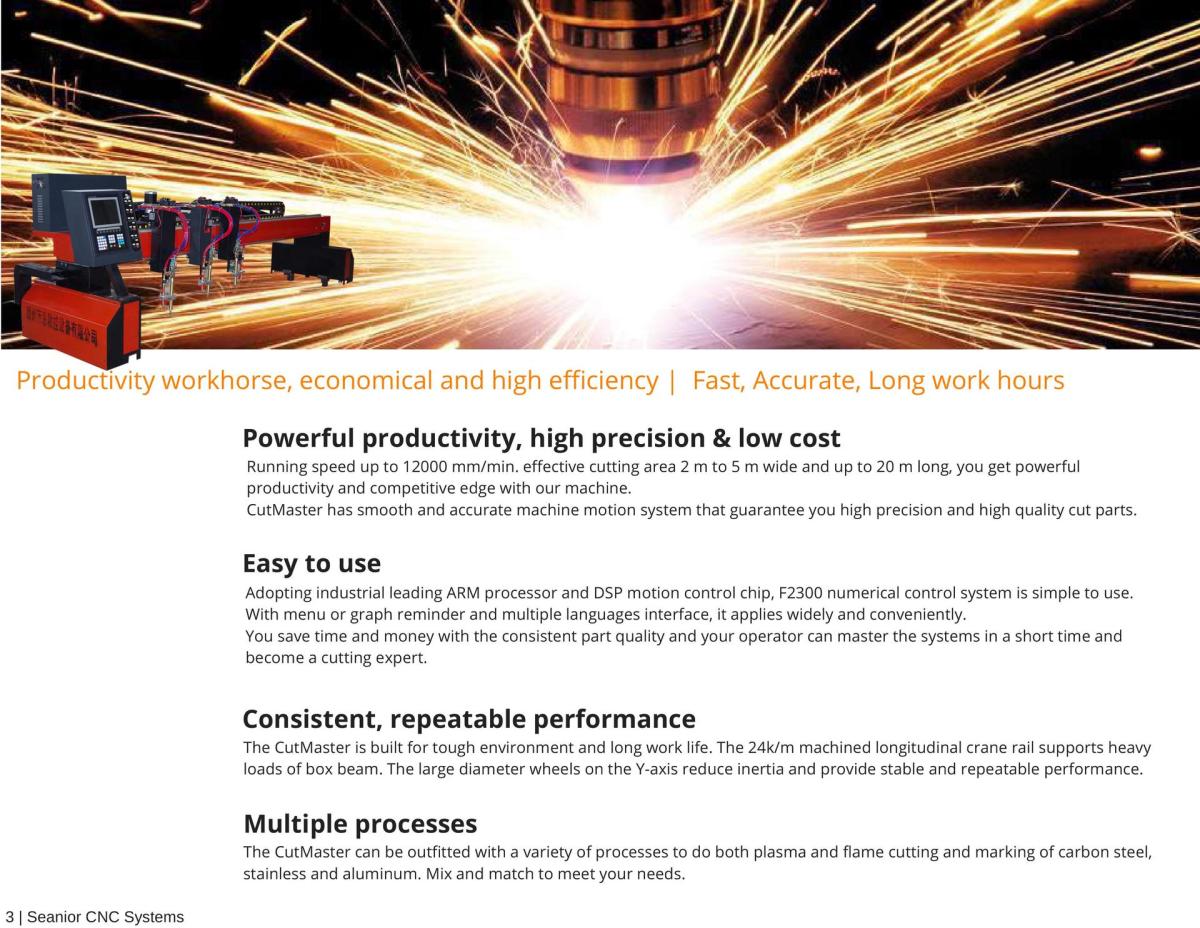 Basic parameter
Technical item

Technical parameters

effective cutting width

2000mm - 5500mm

effective cutting length

4000mm - 20000mm

flame pierceing thickness

6mm - 80mm

edge cutting thickness

6mm -200mm

torch lifter vertial

traveling distance

≤150mm

cutting precision

±0.5mm

cutting speed

50 -700 mm/min

lengthwise linear accuracy

±0.2 mm

linear repeating accuracy

±0.2 mm

duty cycle

24h

temperature of the

working environment

0~55℃

material to cut

mild steel, stainless steel, alloy, aluminum, copper, titanium and other non-ferrous metal
Notes
The positioning accuracy and repeating accuracy of our CNC gantry cutting machine is higher than JB/T5102—1999 standard
Cutting dimensional accuracy and cutting edge quality is higher than JB/T10045.3—1999 standard
Machine Configuration
cutting method

flame and plasma cutting

cross movement rail track

double axle linear rail track

lengthwise movement rail track

24kgU71Mn heavy rail track

movement motor

full digital servo motor/

high-precision stepping motor

deceleration system

coaxial planetary reducer

control system

industrial anti-dust numerical control

general jacking software

Pronest、Starcam、Fastcam

elevating body

ball screw / eletronic push rod

connecting power source

AC220V/50HZ

cutting gas

oxygen + ethyne/propane

plasma cutter

optional

dust and fume extractor

optional

prerequisite

gas source, power supply,

rail track base, cutting table